Top 3 Tips for Great Community Management
As a small business owner, you're chief cook and bottle washer. Which also makes you Community Manager. This role means your social media pages need to have a personality that connects to its audience. Connecting doesn't simply mean replying to comments and inbox messages. What makes great Community Management? Here are 3 tips to get you started:
Timely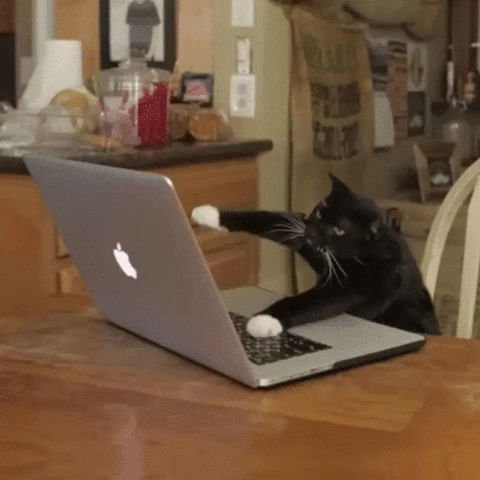 via giphy
Responding to your followers/ customers in a timely manner is of utmost importance. Their query may include details on one of your products, the cost, or available sizes. The time between when the message is sent and when a reply is given translates to sales. The more you delay, the more likely your customer is to wander away to another business. Delayed responses can damage your brand and, if your customer is like me, the news of your lack of customer service can spread beyond social. You don't want that, do you?
Conversational
via giphy
Good community management involves being conversational. Sure, you've never met even a quarter of the people that have liked your page, but your engagement and content should create a place that they can connect with. Your followers are human at the end of the day and they have needs. Skip the corporate blah blah blah for a personalized approach. Refer to your follower by their first name, throw in an emoji and be less robotic. Be a person to a person. Being conversational opens the door for excellent customer service and leaves your followers interested in interacting with your brand again.
Negative vs. Negative
via giphy
Brands are not puppies; they are not perfect. In business, you will make mistakes and you will have unsatisfied customers dragging your brand through the dirt with customer reviews. How do you respond to the negative? With positive. Responding negatively to negativity digs a hole for your business, and places a nice slab of concrete right over it. It's a hard place to get out of. Responding positively can create a learning space for your business, and it's an opportunity to exercise your best customer service and retain your customer. It's not going to be easy. A dissatisfied customer can make or break you, but if you care for the relationship beyond the sale, you'll respond differently.
Community management should always create a relationship between the brand and the buyer. It's the practice that fosters loyalty and encourages customers to keep coming back. Small nugget for you, when you have great community management, you will never lack content.
Event Alert: AC Marketing and Microsoft will be hosting From Resume to Linkedin, an exclusive networking event on February 21st. Spaces are limited, so register now!